Merchandise
Note:  If you want to order Audio CDs or MP3's (preview available!!), please follow the link below to go to CDBaby.com.
Dancing With Blue:

Better Later Than Never:
.
"The Making of Better Later Thank Never" DVDs…
…(a video documentary) are available below directly from our site.  All financial transactions are handled securely via PayPal.  If you do not have a PayPal account, you may select a credit card as a payment option on the PayPal site.
You may edit your order, or choose to check out from the shopping cart on the right.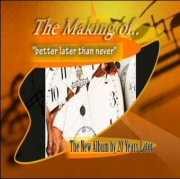 Product:
DVD – The Making Of "Better Later…"(Video Documentary)
Price: $10.00 (plus $2.50 S&H)