Media
Audio
Here is a demo of a couple of tunes we recorded live:
Download "Summer Breeze & Brian Wilson"
Video
Just some rough cuts from the Camden, NY gig.  We only had a single camera, so this is not exactly a video production.
.
We had some fun in the studio, a big thanks goes out to our friends at Select Sound Studios!
Poster

Pics
Working in our "Studio" on the CD
2011-02-18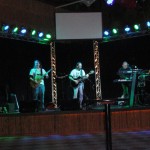 2009-07-04